Two months ago, rafting enthusiasts were skeptical about the upcoming rafting season. But then April came, and Ullr blessed us with a very generous amount of snow, allowing us to have the kind of rafting season we all like around here. And despite warm temperatures, there's still a lot of snow on the peaks, especially on Summit County's Ten Mile Range.
"Our current spring snowmelt is running about two weeks behind schedule," says KWGN's Meteorologist Chris Tomer. "To rafters, that means peak river flow will occur in the first two weeks of June." Tomer says there are also two dust layers hidden in the snow pack. Once we burn our way through the top layer of the snow pack and hit the dust layers, the snowmelt will accelerate.
The latest stream flow forecasts from the hydrologists at Colorado's Natural Resources Conservation Service show the best stream flows and near-normal flows will occur in the Colorado River Basin, South Platte River Basin, North Platte River Basin, and Yampa & White River Basin. The remaining four major Colorado River basins struggling with below normal stream flow forecasts include the San Juan River Basin, the Rio Grande River Basin, the Arkansas River Basin, and the Gunnison River Basin.
With rafting season right around the corner, now's the time for us to tell you all about our favorite rafting trips in the area! Whether you're a beginner or an expert paddler, there's a trip in Colorado for everyone! We've compiled a list of trips that we feel are great for families, great for the adrenaline seeker and trips even the "Average Joe" might enjoy.
Trips Great for Families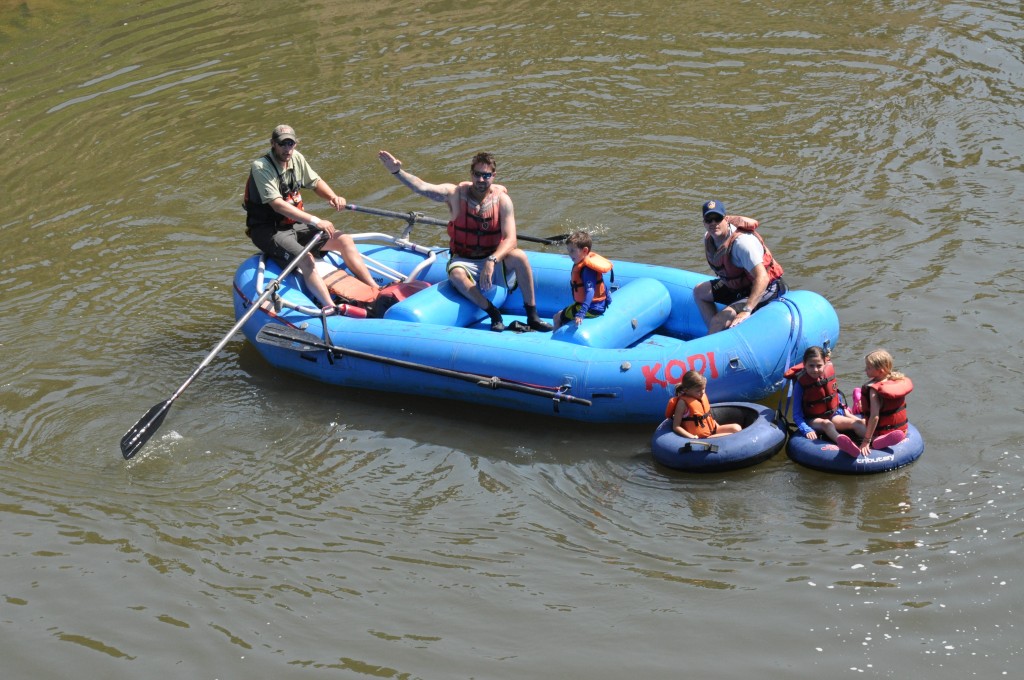 Upper Colorado River
Arkansas River's Brown's Canyon This section of the Arkansas River is located near Buena Vista. This trip delivers a mix of exhilarating whitewater and the majestic views of the Collegiate Peaks. Brown's Canyon offers a variety of Class III rapids and is suitable for children seven years or older.
Upper Colorado River Located near Kremmling, this Class II section of the Colorado River is a gently flowing river that is inviting to all ages, including children three years or older. You'll encounter a few small rapids as the river winds through the Gore Range and Mountain Ranchland. If you want to get your heart racing, you even have the option of leaping from Jump Rock or Little Jump Rock into the refreshing river. This trip allows you plenty of down time to sunbathe, swim or just relax and enjoy the day.
Upper Colorado River via DuckieLooking for a little more excitement on the Upper Colorado River? Try paddling the section in a duckie, instead of a raft! Never been in a duckie before? Don't worry…no experience is necessary. Children who go on this trip need to be 10 years or older.
Trips for the Adrenaline Seeker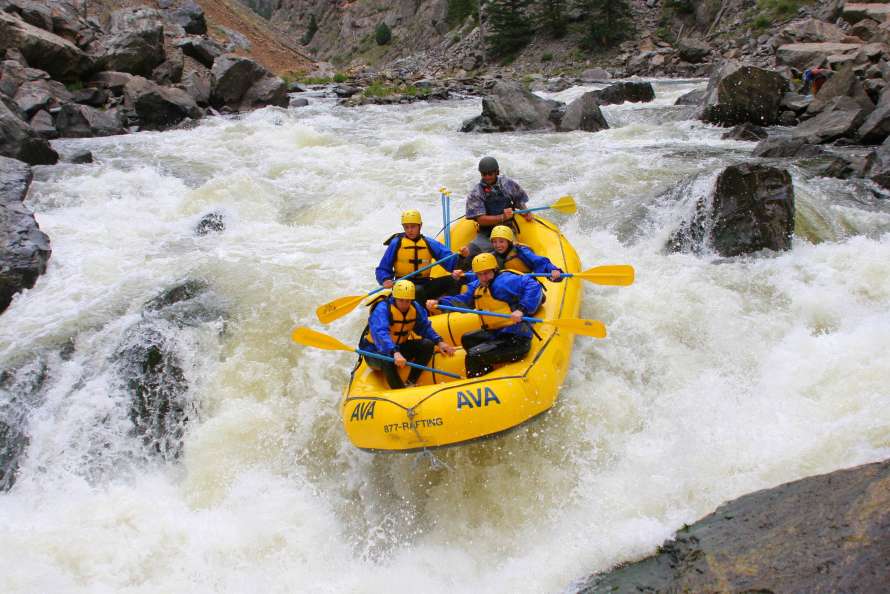 Gore Canyon
Colorado River's Gore Canyon The Colorado River's Gore Canyon near Kremmling is a section only for serious paddlers. That's because this remote wilderness canyon on the Colorado River serves up the steepest gradient drop per mile in Colorado. Gore Canyon is one of the most advanced whitewater sections in the country! Dropping an astounding 120 feet a mile with a vertical waterfall in the heart of the canyon, this trip is strictly for the adventurer. Excellent physical condition is required and you must be 15 years or older. Due to water flows, this section typically can only be rafted July thru September.
Arkansas River's Pine Creek & Numbers Pine Creek and the Numbers is the most advanced section on the Arkansas River. This section of Class IV and Class V whitewater begins near the small mountain town of Granite and ends near Buena Vista. At one point, the river narrows by almost half and the gradient drops 200 feet. Pine Creek and the Numbers' sections demand good physical condition and you must be at least 15 years or older.
Clear Creek's Advanced Section If you're looking for technicality, Clear Creek is the way to go! Blast down the Lower Canyon of Clear Creek, near Idaho Springs, and enjoy one of the most continuous sections of whitewater in Colorado. Rush through impressive scenery and even more impressive gradient drops. Paddling experience is recommended for this trip and you must be 15 years or older.
Trips for the Average Joe (Or Jane)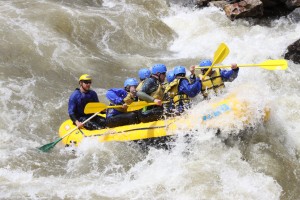 Clear Creek
Colorado River's ShoshoneShoshone Rapids are an awesome blast of Class III whitewater accompanied by the stunning scenery of Glenwood Canyon. This action-packed trip is guaranteed to give you a thrill — without scaring the daylights out of you! Children must be six years or older for this trip.
Blue River This Summit County whitewater trip offers action-packed rapids as well as the incredible scenery of the Gore Range. The Blue River offers a fun whitewater excursion perfect for families, first-timers and those looking for a shorter adventure. This trip is known for its great mix of whitewater adventure and breathtaking Rocky Mountain scenery. You'll get stunning views of the Gore Range mountains, a line of craggy, sharp peaks north of Summit County. So make sure you bring your waterproof camera! Children must be six years or older.
Clear Creek's Intermediate SectionConquer some of the most intense whitewater on Idaho Springs' Clear Creek! Starting high in the canyon, there's just enough time to warm up before you drop into the first class IV rapid. Enjoy this steep, technical section that will keep your paddle moving! Good physical condition is recommended and a minimum age of 15 years is required.
Summit Mountain Rentals has partnered with several different rafting companies in the area, who offer discounts to customers. Click here for more information.
Happy rafting, everyone!