There are so many beautiful drives in and around Summit County that you don't want to miss while you're here! Breckenridge and Frisco are perfect base camps for these three drives that we want to share with you below. Whether you're looking for a short loop or an all-day adventure, we've got you covered with our three favorites!
Swan Mountain Road (Lake Dillon Loop)
If you'd prefer to do some driving right in Summit County, the loop around Lake Dillon is gorgeous. If you are starting in Breckenridge, take Highway 9 North until you get to Swan Mountain Road where you will take a right. As you go up Swan Mountain Road, you'll see breathtaking views of Lake Dillon and the Tenmile Range. There is a perfect place to stop at the top and take some photos, and even go on a short hike! This .7-mile hike is called Sapphire Point, and you'll see the trailhead right near the parking lot. When you reach the end of Swan Mountain Road, turn left on Highway 6; you will then enter the towns of Dillon and Silverthorne. There is a beautiful Marina you can check out in Dillon, and lots of shopping and dining over in Silverthorne. As you continue the loop again, we recommend taking the Dillon Dam Road back around into Frisco instead of I-70. There is another great hike off this road called Old Dillon Reservoir, where you'll get more great views of the Tenmile Range as you hike up to where Lake Dillon was originally located. As you enter Frisco, you can hop back on Highway 9 South to get back to Breckenridge and complete the loop. Just don't forget to make another Marina stop at the Frisco Bay Marina and check out the Island Grill (a local favorite). This drive itself will only take about 40 minutes, but we'd recommend planning on spending at least a half-day to explore the county!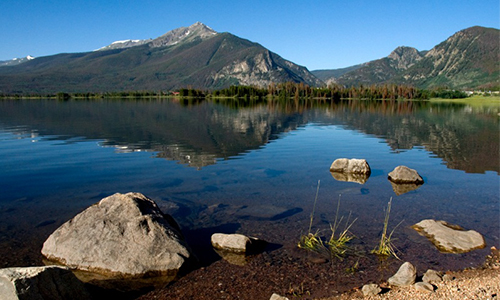 Loveland Pass Loop
If you're interested in seeing the Continental Divide and some great views, this is the drive for you! Take I-70 East to exit 205 for Silverthorne/Dillon and take a right on Highway 6. Follow this and you will pass Keystone and Arapahoe Basin Ski Areas, and then you'll head up to the Continental Divide. There is parking so you can get out and walk around and snap some photos. Make sure to get one with the "Loveland Pass, Continental Divide" sign, showing that you are at an elevation of 11,991 feet! As you continue your drive, you'll head back down to I-70, and make sure you head West to come back to Summit County. We would recommend planning on spending two hours to do this drive (actual drive time is approximately 80 minutes).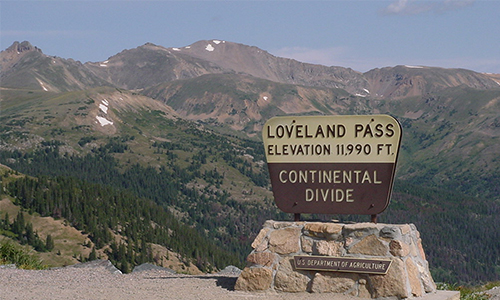 Independence Pass 
This is a breathtaking mountain pass that is open during the summer only. If you can handle heights and some steep ridges, you'll love this drive! Head West on I-70 until you get to exit 195 for Highway 91 (towards Leadville). Stay on Highway 91 (and then US-24) through Leadville until you reach CO-82. Turn right and then follow that all the way to Aspen by taking Independence Pass. Aspen is a great spot to stop and do some sightseeing (the Maroon Bells are beautiful if you have time to see them). There is also plenty of wonderful hiking in Aspen that you don't want to miss! When you're ready to leave, you can take the same route back to Summit County, but we suggest making it a loop and going through Glenwood Springs. To do this, follow 82 along to I-70 East and take it all the way back to Summit County. You'll pass through Glenwood Springs, where you can stop at Glenwood Caverns or take a dip in the all-natural Glenwood Hot Springs! Glenwood Canyon is a gorgeous drive as you head back towards Summit County after your adventure. We recommend you plan on spending a whole day for this drive in order to enjoy it to the fullest.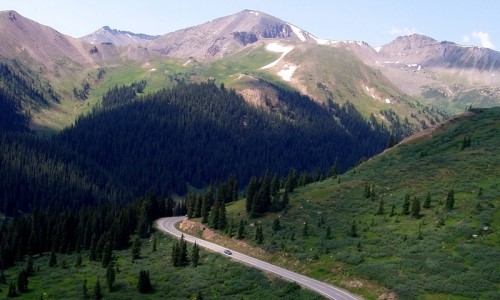 Are there other scenic drives in the area that you'd like to share? Comment below and let us know!