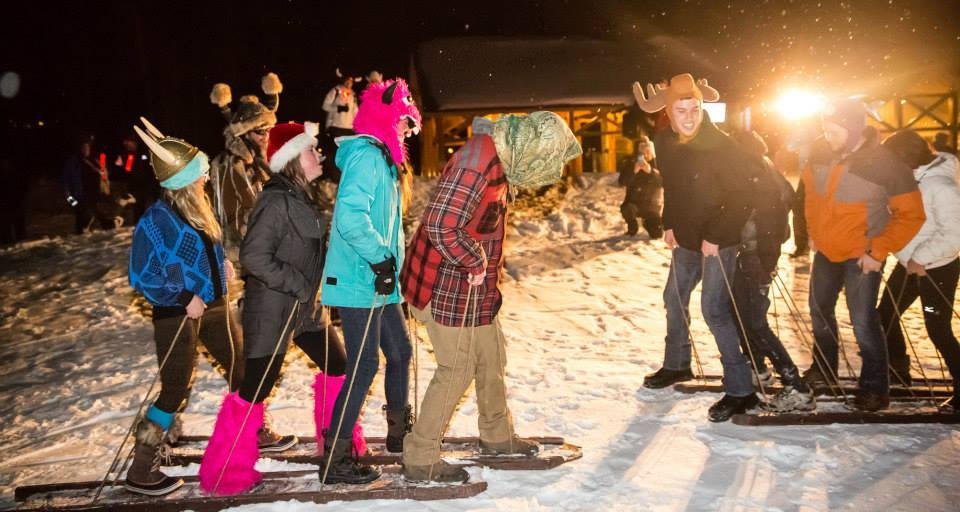 This is my favorite time of year – Ullr Fest! Every year Breckenridge hosts Ullr Fest, celebrating the Norse God of Snow. There are many different events all week, from a parade to the longest shot ski in the world and even a huge community bonfire. My favorite event is Ullympics!
Ullympics is a time for teams to come together and take down their competition! This event is not for the weak-hearted! I have partaken in the event since I have lived here — unfortunately our team has never come out on top. My favorite part every year is the group ski race. Everyone in your group is strapped to two big skis and you have to work together to move them around two cones (or cases of beer) to get to the other side before your opposing team.
It's my favorite event because it's so funny! You can hear cheers from the crowed and commands from the front person: "LEFT! RIGHT! LEFT! RIGHT!" With all the commotion, sometimes the back person can't hear, which causes slipping and sliding from the rest of the team. On top of that, teams sometimes try to push the other team off of their skis. And other times, they don't even need to! It's just as easy to fall off yourself! It's really a great event if you're looking for a laugh. Events this year also include a frying pan toss, group ski racing and ski boot relay.
This year, Ullympics is on Saturday, January 16, 3 – 5 p.m. Don't miss your chance to join in on the competition! Email your registration from to gavind@gobreck.com. And the best part is – it's free!
Rules:
Each team has four members — no substitutions.
All team members must sign a release of liability form before games begin.
Only regular boots/shoes may be worn during the games — no spikes.
Games are light-hearted and not physically demanding.
Enjoy a drink or two and don't let you competitive spirit take over too much.
Click here for more events and information about Ullr Fest.
Comment below and tell us your favorite part or Ullr Fest!
Photo: Daniel Dunn, GoBreck