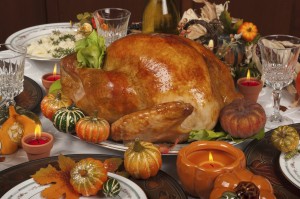 Thanksgiving is the time of year when family and friends come together to celebrate the holidays, swap stories and stuff themselves silly. Breckenridge offers many different options to enjoy the holiday festivities. From dining out to staying in, we have the scoop on where to go and what to do on Thanksgiving.
Breckenridge Restaurants:
Blue River Bistro
Blue River Bistro is offering their full dinner menu plus a traditional Thanksgiving three-course dinner special starting out with a pear and roasted chestnut bisque. Next on the menu is garlic and thyme roasted turkey, roasted onion and fontina mashed Yukon potatoes, apple and walnut stuffing, bourbon and brown sugar spiced yams, and cinnamon-cider cranberry sauce. Make sure to leave room for desert! They are serving pumpkin cheesecake with a maple chocolate sauce. Yum!
Reservations are recommended: (970) 453-6974.
Spencer's Restaurant
If you are looking for more choices in your Thanksgiving meal, Spencer's Restaurant at Beaver Run has a buffet-style spread with lots of choices. From the traditional oven roasted turkey to a pan fried salmon filet, everyone in your group will find something to enjoy.
Adults: $44.00 Children (12 & under) $24.00
Reservations are recommended: (760) 327-3446
Motherloaded Tavern
At 11:30 a.m., Motherloaded Tavern is opening their doors to serve a traditional Thanksgiving Day meal. With full Thanksgiving plates for adults and a "Mom, I Don't Like All That Other Stuff" plate for kids, the whole family will be happy.
Thanksgiving plate: $10.95. Kids Plate: $5.95. Pumpkin pie: $6.95.
They are not taking reservations, so make sure to get there early to guarantee a table.
Salt Creek Steakhouse
Salt Creek Steakhouse is serving a traditional three course turkey dinner. To mix things up a bit, they are offering tender oven roasted turkey or southern smoked turkey as an entrée.
Adults: $27.95. Children (10 & under): $14.95
Reservations are recommended: (970) 453-4949.
Other restaurants with Thanksgiving plates include Quandary Grille at the base of Peak 9, Hearthstone, Blue Stag and The Dredge. Just remember to call and book a reservation first!
Catering:
Black Diamond Catering
Black Diamond Catering is open for delivering a traditional Thanksgiving dinner to your vacation rental. They have everything from a stuffed rosemary turkey to sweet potato pie. Call to book your catering service today!
Call to book: (970) 468-9999.
Ridge Street Kitchen
Ridge Street Kitchen is offering a plethora of menu ideas to enjoy your Thanksgiving feast. With many different kinds of soups, starches, vegetables, breads and desserts everyone in your group will enjoy Ridge Street Kitchen's holiday meal. They ask for 24-48 hours advance notice.
Call (970) 453-2187 for more details.
Thanksgiving Dinner Pick-Ups:
Lost Cajun
Lost Cajun is offering a Cajun twist to the traditional Thanksgiving dinner with Cajun turkey. You can order just the turkey or they will create a whole meal including gumbo, crawfish etouffee, lobster bisque or red beans and rice, potato salad or coleslaw, and French bread.
10-12lb turkey: $55. Full Meal: $98.
Call (970) 547-8330 or stop in the store to place your order.
City Market
City Market offers many different types of cold holiday dinners. With a variety of turkey dinners to choose from, they also offer ham, prime rib and gluten-free options. Dinners range from $44.99-$89.99. Call (877) 894-3707 or order online.
Local Events:
Frisco Adventure Park Opens
Frisco Adventure Park has lots of activities for families to enjoy. The 1,200-ft. tubing hill is the main attraction of the Adventure Park; it's open 10:00 a.m. to 6:00 p.m.
Tubing hill hourly rate: $25. Additional Hour: $10
Call to register: (970) 668-2558. Walk-ins accepted when space is available.
Frisco Turkey Day 5K
The Frisco Turkey Day 5K will start from the old Community Center (110 3rd Ave) at 9:30 a.m. and will finish in the Peak One Neighborhood. All participants will receive a custom Turkey Day 5K Polar Water Bottle. Pre-registration is now open. All proceeds will benefit Frisco Elementary's STEM (science, technology, engineering and mathematics) program.
http://www.activityreg.com/selectactivity_t1.wcs?leaguesid=1020