Lodgepole pine trees tower above you leading your eyes to the deep blue sky above as the dusty trail beneath your feet winds through the shaded forest. The smell of pine is heavy as you inhale the clean mountain air deep into your lungs. Birds chirping from the tree tops surrounds you as a gentle breeze cools the air. You look up from watching the toes of your hiking boots as you step over a small rock in the skinny trail to see the forest open beyond you. The meadow that stretches out before you is carpeted with vibrant yellow, red, and purple wildflowers. A feeling of serenity blossoms as you saunter on.  
The warm weather of summer in the Colorado Rockies brings with it an abundance of wildflowers. Finding and identifying these flowers can be a challenge marked by beautiful hikes and sweeping scenery. But for the dedicated wildflower hunters among us Summit County can offer incredible wildflower experiences.
How to Find the Flowers
There are dozens of hikes around Summit County that are perfect for wildflower hunting. Whether you are looking for a short jaunt through the woods, a long loop through the wilderness, or a high-alpine adventure, there are hikes in Summit County perfect for you. The staff at Summit Mountain Rentals loves hiking and you can find some of our favorite wildflower hikes below! To find more hikes that aren't listed here just visit hikingproject.com for a long list of local hikes.
Black Powder Pass is an excellent high-alpine hike near Breckenridge with stunning views of the Tenmile Range and Breckenridge Ski Resort. Only 1.45 miles one way, this mellow hike starts at 11,494' and ends at 12,187'. You can drive to the trailhead of this hike by driving up Boreas Pass Road nearly right out of Breckenridge's downtown. Boreas Pass is an excellent summer drive as well, however it is closed to vehicles from November to May.
The trail starts near some ski huts and old railroad machinery that make for some very cool exploring. The beginning of the trail is mellow until about 3/4s of a mile where it begins to ascend. The next quarter of a mile is the most difficult section of the hike gaining 289 feet of elevation. The top of the pass is the turn-around point but make sure to take a break and take in the breathtaking views of the Tenmile Range!
About 12 miles west of Frisco is Shrine Ridge Pass, a wonderful hike that is named for its incredible views of Mount of the Holy Cross. The trail was first made by Ute Indians and afterwards used by settlers and silver miners. This trail features mellow grades and incredible wildflowers. Views from this trail include the Gore Range to the north, Uneva Peak to the northwest, Copper Mountain Ski Area to the southeast, Ptarmigan Hill and Ptarmigan Pass to the south, the Sawatch Range and Mount of the Holy Cross to the Southwest, and the Flat Top Mountains to the west.
Shrine Pass reaches an elevation of 11,873 feet after starting at just over 11,000 feet. The trail is moderate 2.2 miles one way with 743 feet of elevation gain. To get to the trailhead for this hike drive on I-70 west from Frisco to Exit 190. Follow Shrine Pass Road (FSR 712) for 2.3 miles to the trailhead on the left that is near the gravel driveway for the Shrine Mountain Inn. Follow the trail southwest as it climbs through pine-studded meadows for about 1.3 miles where the trail turns west before the steepest part of the hike to the saddle you can see to the west. From the saddle travel northwest to Shrine Mountain where the best views are to be had.
Lily Pad Lake trail is one of the more popular trails in the Summit County area and for good reason. Views of Lake Dillon and the entire Blue River Valley can be had from the trailhead and the hike itself takes you through thick stands of Lodgepole Pine and Aspen. You will cross small streams and pass several beaver ponds that were popular among fur trappers during the height of the fur trade years of 1810-1840.
The trail is an easy 1.4 miles one-way with only 127 feet of elevation gain. You can continue past Lily Pad Lake to extend this hike as well. Access the trailhead by taking Exit 205 for Silverthorne and Dillon. Go north on Highway 9 and turn left at the first traffic light. In 0.2 miles turn left onto Wildernest Road. Travel 3.6 miles on Wildernest Road, which turns into Ryan Gulch Road. At the top of the hill there is a trailhead parking area on the left. This trail enters the Eagle's Nest Wilderness, a true gem in Colorado with restrictions to protect its beauty. Mountain bikes and motorized vehicles are prohibited and dogs must be on a leash at all times. Group size is limited to 15 people. This trail truly is special as it travels through the forests Colorado is known for to a beautiful lake that is an excellent place to enjoy lunch. This is as Colorado as it gets!
Identifying Summit County's Wildflowers
After the hike to find the wildflowers, the other half of the fun will be identifying the colorful bouquets you see scattered about you. From Colorado's bright blue state flower, the Colorado Columbine, to the deep red of Indian Paintbrushes, you will find a massive array of colors and shapes on any of these hikes. Challenge yourself to identify three flowers and take the time pick your favorite. Don't forget to stop and smell them along the way!
Colorado Columbine (Aquilegia coerulea) – Colorado's official state flower has a three-parted, ferny leaf and can be two to three feet tall in full bloom. You will find this flower in the subalpine zone, which is often made up of aspen groves. Look for it in semi-shaded areas with semi-moist soil. The flower can range from a beautiful shade of light blue to a unique purple. Colored pedals are set beneath white pedals with bright yellow stamen. Shoots of sharp colorful pedals extend below the main flower.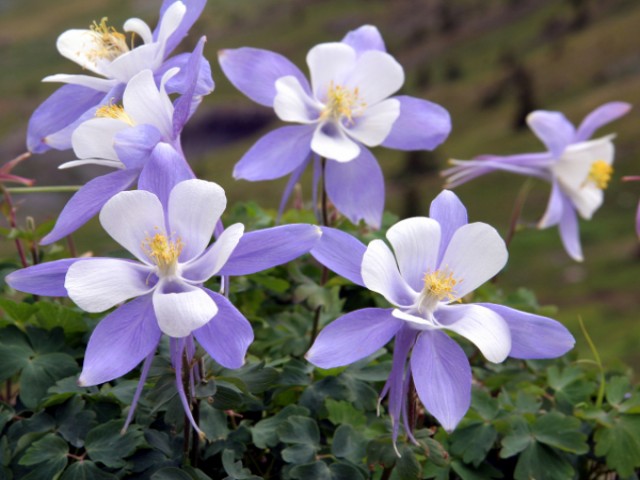 Indian Paintbrush (Castilleja miniata) – This brightly colored flower is easy to spot and abundant along Summit County's trails. The flower is usually between eight to twelve inches tall and can bloom in a variety of shades of red from bright fire-engine red to pale red to even a peach color. You can find this beautiful flower at most elevations in Summit County. The Indian Paintbrush's name comes from the legend of the flowers origin: An Indian brave was trying to paint a picture of the sunset with his war paints. He became frustrated because he could not capture the vibrant colors. He asked the Great Spirit for help. The Great Spirit gave him paintbrushes dripping in colors of the sunset. The Indian brave used the brushes, and then threw them away. Wherever the brushes landed, they grew into the beautiful flowers.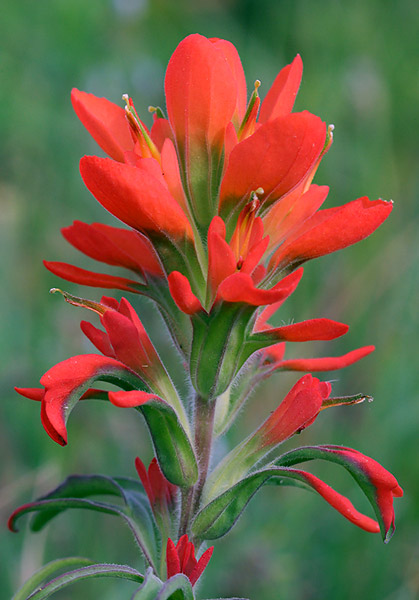 Subalpine larkspur (Delphinium barbeyi) – A common species in high-altitude wetlands and moist meadows, this large plant can grow to be six feet tall. It produces lobed, maple-like leaves that resemble those of a garden delphinium. The small flowers grow from the plant's tall stems and appear in spurred groups varying from dark-blue to purple.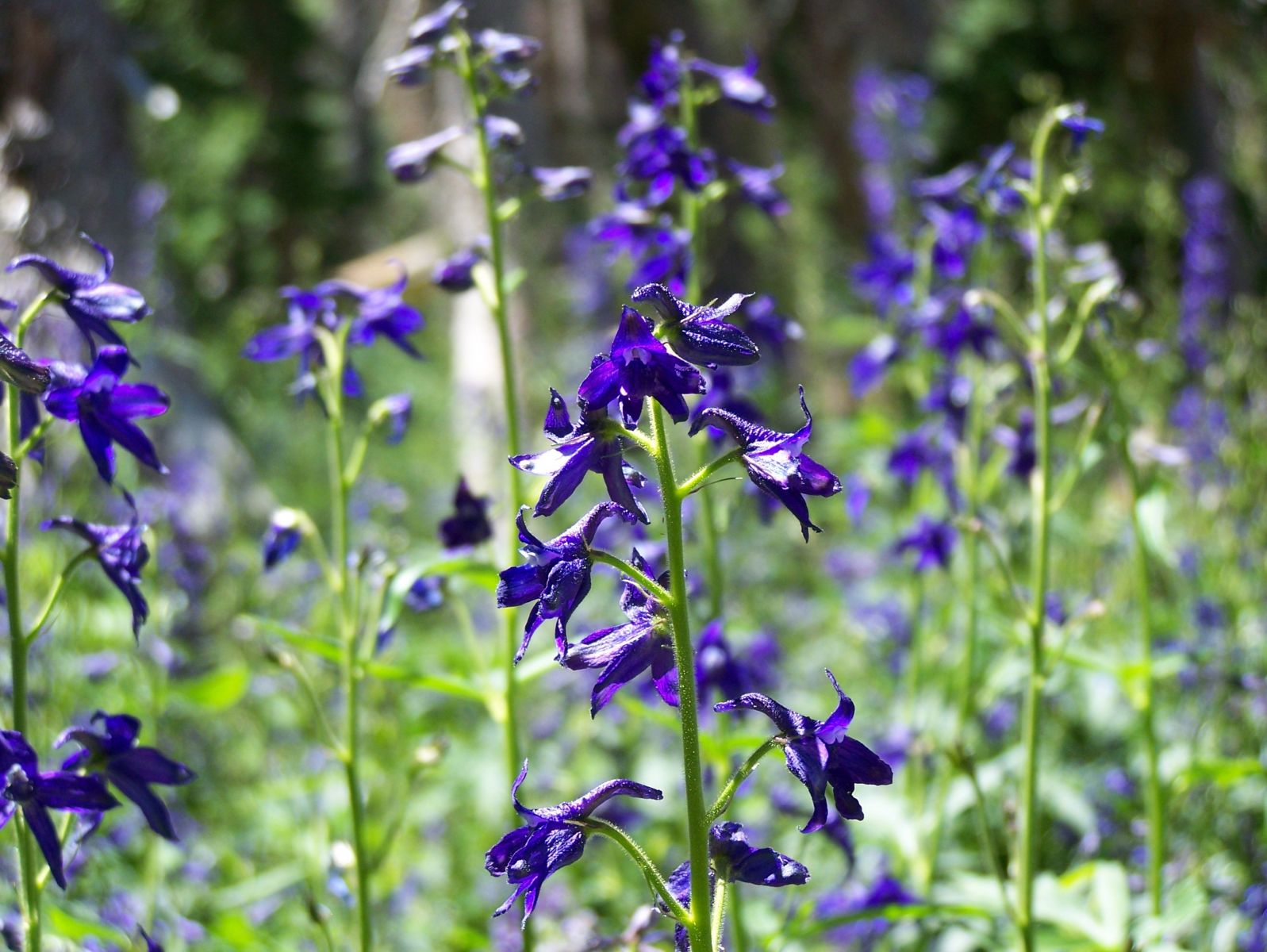 Alpine forget-me-not (Eritrichium nanum) – The Alpine forget-me-not is the quintessential alpine wildflower and can be found almost everywhere in Summit County. This beautiful flower only grows an inch or two high and features intensely blue, five-petaled flowers with a white-ringed yellow eye. You will find this incredible flower on the rocky slopes of dry, sunny alpine areas.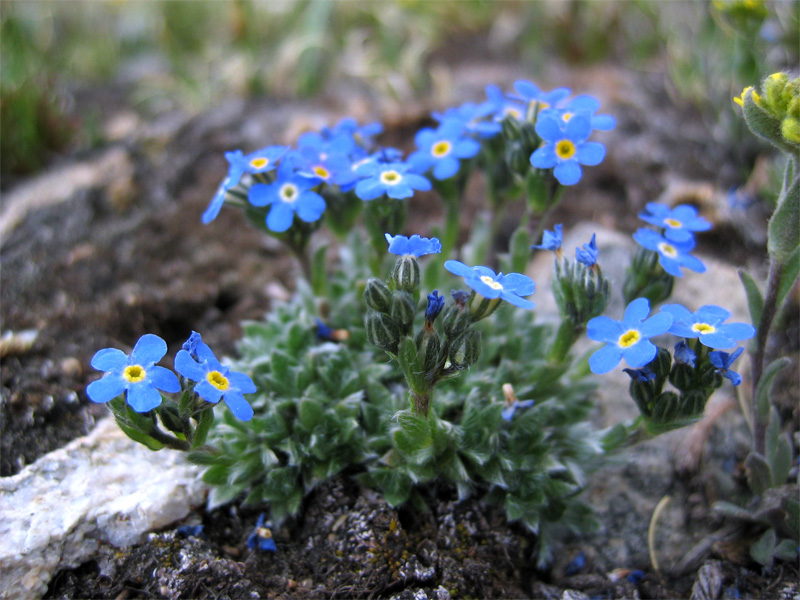 Remember to travel prepared when you embark on your flower hunting missions. Bring plenty of water and snacks and remember the weather changes fast in Colorado so bring a rain jacket or extra layer. Always practice leave no trace policies by taking only picture and leaving only footprints and remember if you pack it in you must pack it out. Have fun finding all of these amazing wildflowers and when you are ready to take a rest after a long day of smelling the flowers call us or browse summitrentals.com to find your perfect rental property!