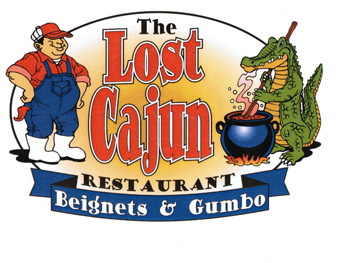 Four tables and an eight-person counter: This makes up the seating at Lost Cajun in Frisco, Colorado. You would not think this would be enough to support a restaurant, but Lost Cajun makes it work. Like all successful restaurants, it has unique things going for it. Mostly, it has character and great beignets, the French version of a donut. Lost Cajun is located on Main Street, Frisco, in a small shack-like building on the south side of the street. As you enter, there is a small display to the left, four tables on the right wall, a tall counter with seating on both sides, and the kitchen on the far side of the room. That's it!  You are greeted by cheerful and often exuberant waitresses (yes, with only four tables, there is always more than one person working the front of the house). This is the reason you visit Frisco — to get away from the rigors of city life and enjoy the character and flavor of Summit County.
At Lost Cajun, you often have to wait, but the wait is painless as they offer samples of everything on the menu. Once seated, you'll find that the menu is short and reliable with nothing but Louisiana staples listed: gumbo, jambalaya, etouffee, fried fish and my favorite, red beans and rice. I have not had the fried fish, but the gumbo and etouffee have been reliable, and the red beans and rice is always fantastic. Orders are placed with the waitress who immediately yells at the top of her lungs, "One gumbo and one beans and rice!"  In response, the cooks yell back the same. At first it becomes a little unsettling, but you get used to it. If nothing else, there is a certain efficiency to the process that is mesmerizing. With the tight proximity to your neighboring diners and the exuberance of the staff, conversations inevitably start up. Your small group of two or four quickly becomes a group of 16 chatting away. We like the food and enjoy dining at Lost Cajun for a quick, comfortable home-style place to eat, but more than not, we simply love the beignets. I have had beignets in Paris, New York, San Franciscoand, most importantly, at Café du Monde in New Orleans. The beignets at Lost Cajun definitely hold up, which is rather impressive for a local spot in the high country. There are two basic types of beignets; those that are dense and cake-like, and those that are airy and balloon-like. Lost Cajun lands on the side of "airy fluffy."  They serve them hot — really hot!  They come out of the fryer with a mound of powdered sugar on top, which is all it takes to make me happy. Please, please do not breath in when taking your first bite, as you may find yourself inhaling this powdered sugar delight, and sitting in anguish for minutes trying to breath. I learned the hard way, and I felt like an amateur!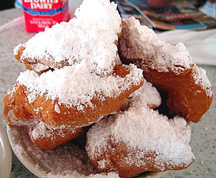 The beignets are the perfect end to a cold winter day when eaten inside, but they are best eaten when walking Main Street on a warm summer evening, leaving a trail of white sugar down the sidewalk. Our dining experience at Lost Cajun leaves us walking out the door feeling full and relaxed — the restaurant is a perfect real-life metaphor.