When I moved to Summit County, I had little idea what a "14er" was. Friends who had gone to school in Colorado, or those who live here now, made hiking 14ers sound like an everyday thing — a casual weekend hobby. However, through working at Summit Mountain Rentals and dealing with guests from all walks of life, I have learned two things. First, most people don't have any idea what "hiking a 14er" means.  And second, most of my Colorado friends clearly hadn't hiked many, if any, 14ers. I think they were just trying to sound cool. Regardless, hiking is one of my summer activities, so I made a point to hike a few of these famed 14ers — or 14,000+ foot mountains for those not privy to Colorado lingo — this summer. I ended up hiking six in total, and found that I learned a great deal about myself and the varying ecosystems of Colorado on each hike.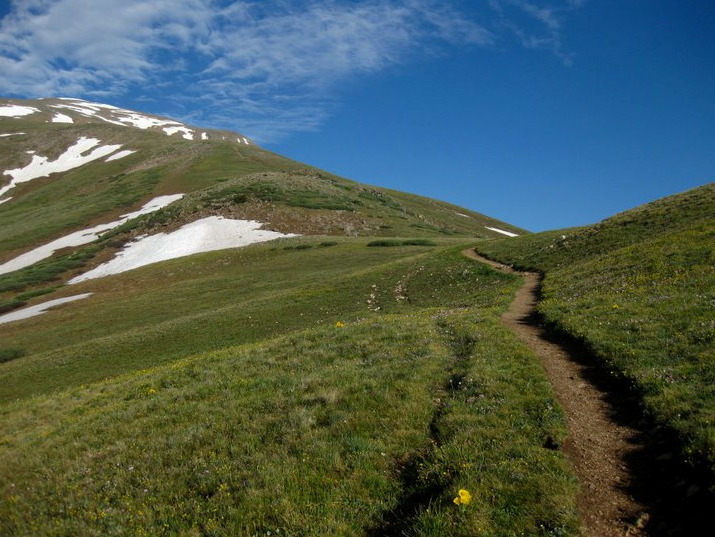 My first adventure took me to  Mt.Elbert, a 14,433 foot peak in the Sawatch Range, a short drive Southwest of Leadville. Not only is it the tallest mountain in Colorado (thus earning me the most "cool points"), but I had also been told it was an easy to moderate hike, so it seemed like a good starting point. I drove down the night before with three friends – a local from Breck, a friend visiting from Georgia, and another friend hailing from the greatest state, Minnesota. We were excited and "high-fiving" as we hit the trail with a couple of granola bars and some small water bottles. Frankly, the hike up wasn't that hard and the trail was well-defined. We crossed up through Aspen groves, through continually thinning pines, past the tree line onto a winding single-track path through alpine meadows, and then scrambled up big rocks and around patches of snow to the summit. We even met some Marmots along the way.  However, I'll never forget the feeling of my legs turning to "Jell-O" on the way down and realizing that I hadn't brought nearly enough water. The second mistake came later when I had a couple of celebratory beverages on top of being severely dehydrated. Needless to say, the next day at work wasn't my greatest. A couple of weeks later I decided to tackle Mt. Quandary, a 14,265 foot peak just a few miles south of Breckenridge. Not only was I more prepared with 2.5 liters of water and plenty of food, but I decided to take down Quandary on my own — man against mountain. I was in one of those rare moods in which I actually craved soreness and my muscles felt restless and anxious to work. So, I woke up at the crack of dawn, threw everything in the car, and drove to the trailhead feeling good about the hike ahead. I didn't even stop to take in the view until I had passed about 25 people, flown up 90 percent of the mountain, and come to a stop to catch my breath standing just 10 feet away from a baby mountain goat!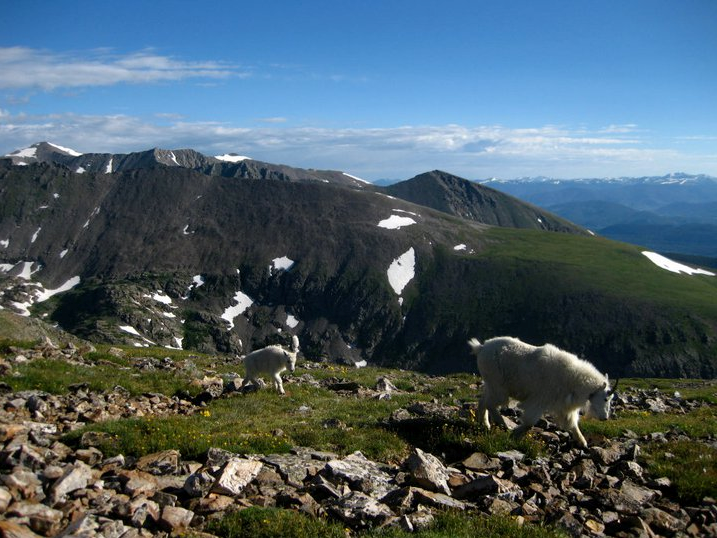 I realized then that my drive to hike fast had caused me to miss everything around me — the mountain goats grazing around jagged cliffs, the Blue Lakes several thousand feet down the south face, the town of Breckenridge to my north, and Lake Dillon glimmering in the sun past Breck. It felt quite surreal as I looked out across the Colorado landscape and sucked in the crisp, thin air. I think I set a record for Quandary that day, but I almost forgot to stop and smell the roses. With two 14ers under my belt, I decided to cap off my summer with one last big hike. It's a 10-mile loop that covers four 14ers: Mt.Lincoln, Mt.Bross, Mt.Democrat and Mt.Cameron (14,282, 14,172, 14,148 and 14,239 feet respectively). The drive to the trailhead was just about as beautiful as the hike itself, leading me south on Highway 9 from Breckenridge, up over Hoosier Pass and the Continental Divide, down into Alma, and northwest of Alma on a snaking dirt road along a gorgeous river valley up to Kite Lake. This hike was quite different than my first two 14ers. I was rested, prepared, and took my time. Plus, the 4-peak loop was probably the most diverse hike of all with respect to terrain. Each of the 4 peaks seemed to have its own geology. Democrat was steep and involved hiking over car-sized boulders, Cameron was rounded, dry and windblown, Lincoln was nothing but a small, steep peak, and Bross was like a gentle mound, but with a brutally steep descent primarily composed of skree (small, loose rocks that make for a slick, precarious descent). It was a great route because the four peaks felt so unique, yet they were all so close to one another.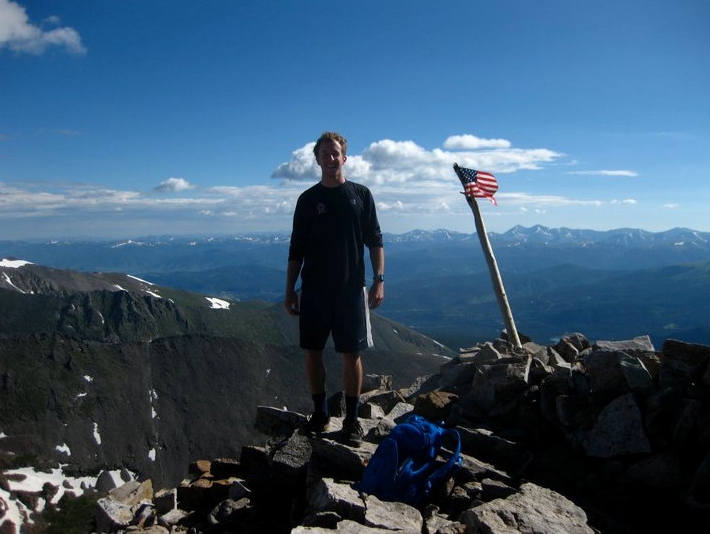 All in all, it was a great summer of hiking. Each mountain I climbed posed new challenges and each was phenomenal in different ways. Elbert had the best view, Quandary was the most challenging and had the most potential for wildlife viewing, and the 4 peaks loop was the longest and most diverse with respect to terrain. If you're interested in hiking a 14,000 foot mountain — go for it! Just be prepared.  Bring more water than you think you'll need, extra food, warm clothes, and most of all: relax, don't rush, and enjoy the view.