I can say without hesitation that this is the most excited I have ever been for a ski season. It's hard to believe, but it will be my 20th season on snow. I've skied more days than anyone I know, and yet this is the season I am most excited for – quite simply because 80% of my skiing life thus far was spent traveling the United States and ripping race courses in a freezing cold speed suit.
So, what's exciting and new for the upcoming season? Well, for me, everything! Instead of waking up at 6 a.m., donning my speed suit, and heading to the race trail, I will wake up casually (around 8:30 a.m.), sip a hot chocolate, put on some comfortable gear, and walk to the mountain where I'll hopefully ski some powder. Rather than hop on a plane and pray to Ullr, the god of snow, all the way to Colorado in hopes of a big storm, I will open my shades daily to find snow falling and walk to the ski lift. And lastly, having grown up skiing in the Midwest and New England, I will ski dry, fluffy, grippy snow every single day, rather than wet, icy snow like back home. (Let's be serious, people who have lived in Colorado for a long time take for granted that the snow here is, in fact, perfect all the time.) Having considered all these dream-like lifestyle perks, there are four things that excite me the most: EpicMix, Gear, La Nina, and "Casual Skiing with Friends."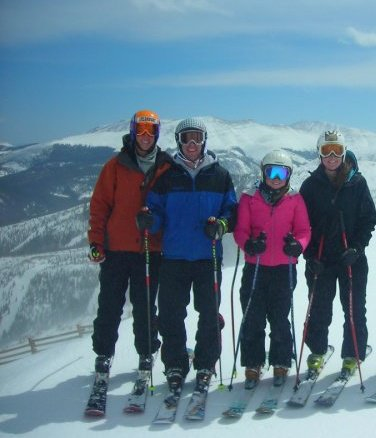 I've had passes at many mountains in my life, but this will be my first big mountain ski pass. That's pretty cool in and of itself, so it's a spectacular added bonus to know that I will be able to track online how many runs I've taken, what runs I've skied, how many days I've skied, and how many vertical feet I'm crushing. As if that's not good enough, the folks of EpicMix have decided to add a new perk called EpixMix Photo this year. Basically, on-mountain photographers will be able to scan my pass, snap some photos of me looking cool while skiing (hopefully), and later post them to my EpicMix account. Awesome!
Gear is a pretty vague category, mostly because I want it all. I'm excited about new gear because lately I have been choosing to spend a very, very large portion of my disposable income on ski gear. But, hey, got to have it, right? Getting deep into the backcountry will be a relatively new thing for me this year, so I've had to buy alpine touring bindings, new skins, and the all-important beacon-shovel-probe combination, complete with a Mammut Pulse Barryvox –  which is hands down the best avalanche transceiver out there. As for skis – well, I'll have a full arsenal this year, including a pair of Atomic Patent park skis, Liberty Double Helix big-mountain boards, and a to-be-decided pair of powder sticks (hopefully Icelantic Keepers!). Probably sounds like overkill … it is.
Thirdly is La Nina. La Nina is the term used by meteorologists to describe unusually cold water temps in the Pacific Ocean. Don't ask me how, but apparently cold water temps in the ocean translates to more snow for us. Last year La Nina was in full force, which is clear given that many resorts in Colorado reported annual snowfalls totaling 150-200% above average. Recently, the National Weather Service and many other weather forecasters have been releasing reports that La Nina is back, but only at about 60% of last year's strength. Either way, La Nina means more snowstorms, more storms means more powder, and powder is exciting.
Lastly, I am very excited for "Casual Skiing with Friends." I just made up that term, but its meaning is simple – skiing with good company for no particular reason other than to enjoy each other and the great Colorado outdoors. Having grown up as a racer, skiing was always extremely competitive, so I'm most excited to just get out there and ski … just to ski.