There are so many awesome activities and organizations to be a part of in Summit County that it can sometimes seem overwhelming, especially for a visitor or newbie. Fortunately for me, when I moved here 3 years ago, I randomly got involved with the
Friends of the Colorado Avalanche Information Center (CAIC)
. I moved to Colorado from Georgia, so I didn't really have a clue what avalanches really were, the threat they posed to the community, or the importance of the work done by the CAIC. What I did know was that they throw an amazing benefit bash every year, raise tons of money, serve awesome food, have free beer, and give away a lot of really cool stuff. So, naturally it was something I was eager to get involved with!
The main goal of the Friends of the CAIC is to support the CAIC, while also contributing to avalanche awareness and education throughout Colorado. As more and more people venture into Colorado's backcountry, it is imperative to continue supporting avalanche forecasting, education and awareness. The Friends of the CAIC does this by obtaining donations and grants, as well as hosting fundraising events.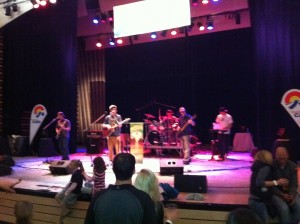 This year marked the fourth annual Benefit Bash, and it was truly an amazing party. There were hundreds of silent auction items, including several snowboards and pairs of skis, avalanche gear, ski and snowboard trips, travel deals, restaurant gift certificates and more. They also had hundreds of items to give away and a giant buffet of food from around town. The event was completely sponsored by New Belgium Brewery, so drinks were on the house. The band "Green River Vibe" rocked the place, and a phenomenally good time was had by all. After all was said and done, the event raised more than $50,000 for the CIAC!
So, if you're looking for a great cause to get involved with, want to learn more about the backcountry, and are interested in a<a href="http://summitrentals.com/articles/articles/travel-guides/breckenridge-guest-services-l147.html"> family-friendly</a> fun event, than get out there and become friends with the CAIC. You can check them out or donate <a href="http://www.friendsofcaic.org/donate/donation.html">here.</a>