As you exit Hwy 70 in Frisco and head toward Breckenridge, you pass a not-so-attractive strip mall with Safeway on one end and Walmart on the other. But this nondescript strip mall holds the key to the best 5-star food in Summit County!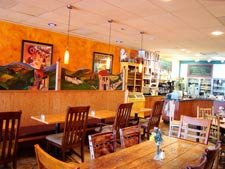 Halfway between Safeway and Walmart is a sign "Café" in red letters. The restaurant's name is "Food Hedz," although you only know this because it says it in small letters on the glass entry. You walk in and find 10 or so small tables and a counter at the front.  The interior is decorated with pictures and murals celebrating the French countryside.  To order, go to the front counter. On one side is the cash register and wines, in the middle is the selection of daily made soups and to the right is the chef and kitchen. Dave, the owner/chef, is always cooking and willing to answer questions, take requests (we'll get to this later) and just chat. At the cash register, Patti, his wife, waits graciously to help you through your choices. Once you've ordered, find a table and the rest of the bustling staff will serve you.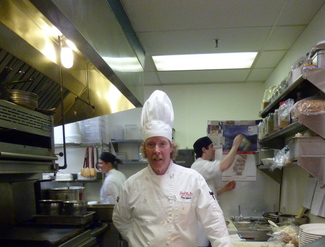 The casual atmosphere would lead you to believe that the food is also casual -- but this is not the case.  Dave was the head chef at the five star Ranch Restaurant in Keystone for many years before taking on the Café. His food reflects a level of quality and flavor not easy to find in the mountains. For example, his fish is always the freshest of any restaurant within 50 miles. The seasonal menu reflects his desire to create intense flavors, creative plating and plenty of food. I have eaten almost everything on the menu but the daily specials are the not-to-miss items. Being in the mountains often makes getting fresh product difficult. Dave's specials are always the most fresh, flavorful food available that day.
What makes Food Hedz even more special is that Patti and Dave make you feel like they are there just to cook for you. Dave seems to like special requests and my favorite winter lunch is not on the menu. I order a bowl of the best soup that day (you can try all three) and then quietly ask if Dave will make me a grilled cheese sandwich. He enthusiastically does this with his daily baked bread. It is like eating at home but much better -- and the cleanup is a snap.
Food Hedz is a special place. It is one of Summit County's "secret treasures," not only because of the quality and care you feel when visiting but also because, unless someone tells you about it, you would never know it is there. Next time you pass through Frisco, make an effort to have dinner or lunch at the Food Hedz Café. And don't forget to say hi to Patti and Dave!