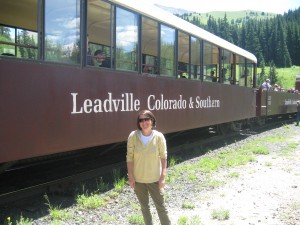 On Saturday my 3 and half year old twin boys and I went on a "tiny trip." My sons and I love traveling and when I tell Michael and Gabriel we are going on a trip, they can hardly wait.
Leadville
is just under an hour from Breckenridge. As we headed out of the garage, I thought we are already living at 9,600 feet, are we crazy to go another 1,000? Well for the love of trains, it was worth it. Michael and Gabriel love trains, so, today we were going to the
Leadville Colorado Southern train.
On all our trips, before we get on the interstate, I stop at Abbey's Café in Frisco to get a tall latte and a cookie for the boys. It has become a ritual on our "trips."
Getting to Leadville is just an easy and beautiful drive up from the Copper Exit on I70. About 10 minutes before the town, you drive by the Climax mine where there is a huge dome. I'm not sure what it does, but it really seems out of place at this altitude.  The train station is easy to find, just take a left onto E. 7th St when you are coming into town off the main drag.
During the summer, there are two departure times:  10AM and 2PM. The ride is 2 and half hours long.
Children under 4 ride for free. (One reason we went now, the twins turn four in September.)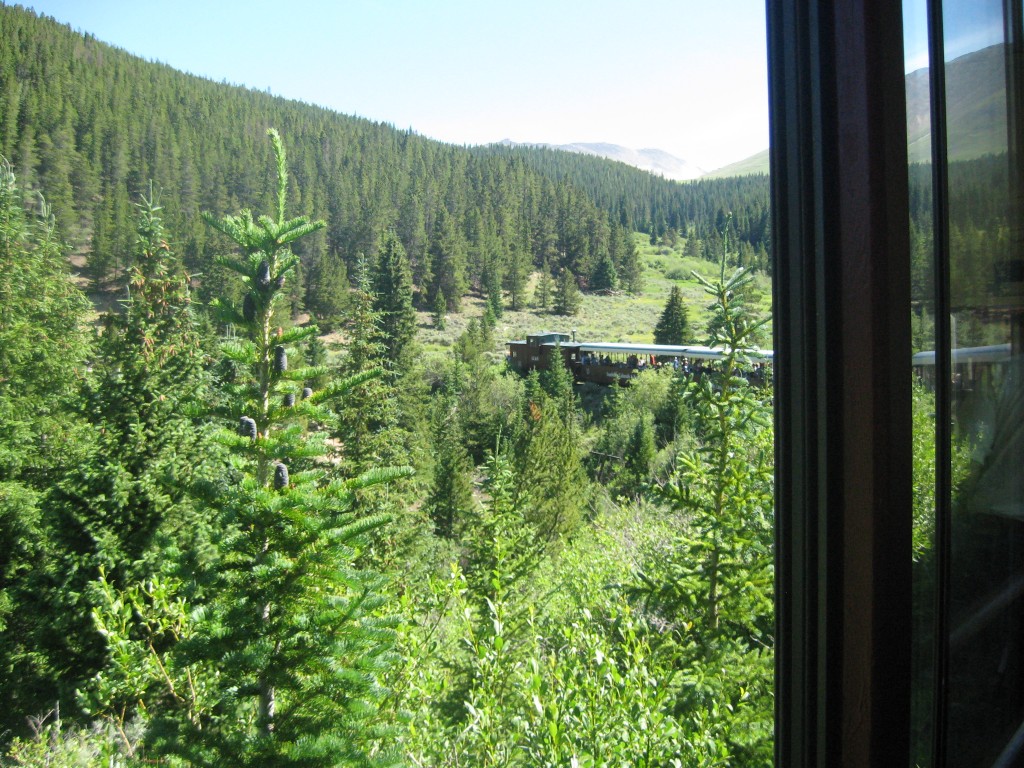 Beware, the station house has a small gift shop with model trains and other train related items. I got out fairly cheap with two Thomas the Train books.  The office told us to arrive 45 minutes early, I think we could have of gotten there 30 minutes early and still gotten good seats. It is tough keeping 3 year olds occupied while waiting to get on a train. The train has a diesel engine and a caboose. The passenger cars are a combination of open cars and covered cars. The covered cars have huge windows that can be opened. In the middle is a car with a gift shop, snacks for sale and restrooms.  Prices are very reasonable on the train. I bought a bag of popcorn for the boys to share for $1.50. (luckily there were no fights over who holds the bag, which I attest to the fun they were having on the train)
Overall, it was an amazing beautiful day. We sat in the covered car, but were able to move into different cars at will. The kids liked walking on the shaky platform between cars. I was nervous though; there wasn't much of a railing. As the trained moved along the tracks the tour guide informed us of the different peaks and lakes. She also spoke of the history of Leadville and Colorado. At one time Leadville was the largest city in Colorado.  The boys were thrilled to be on a "real" train. I was worried they wouldn't be able to sit so long, but the ride kept their attention.  Dogs are allowed on the train so petting all the dogs kept them occupied too.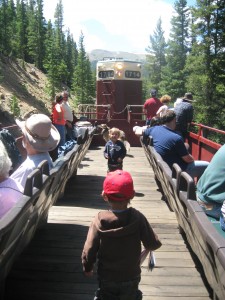 Something about the ride, made us quite sleepy at the end. I had wanted to take a walk down the main drag of Leadville, but I didn't want to push it with the boys. It is always better to head off pre-schooler's meltdowns before they occur, by being mindful of the yawns and whines in the back seat.  But we left Leadville by way of the main street and there seems to be some interesting stores and restaurants to visit on another trip.  Driving home Michael said, "Mommy, that was a great trip."