After months of nothing but gear talk and staring at the sky in hopes of snow, the day has finally arrived – Breckenridge is open for its 50th year! I thought I would sleep in this morning to avoid the opening rush, but to no surprise I woke up with the sun and was on the mountain by 9:15 a.m. Needless to say, the excitement got to me. I had to take advantage of being allowed to skip work for three hours to make some opening day turns!
The air was electric during the bus ride up to the base of Peak 8. Everyone was chatting anxiously about the upcoming season and the first day on snow. How many runs would be open? How many chairlifts? Would it be crowded? Will the snow be OK? Have you heard about the upcoming snowstorm? Snowboarders, skiers, adults, children, grandparents and travelers alike shared in the growing excitement. The scene at the base of Peak 8 was organized chaos as groups tried to keep track of each other and search for the shortest lift lines. They were all long, but no one seemed to care as strangers high-fived each other and friends from seasons past were reunited.
My coworker Geoff and I decided to take advantage of EpicMix's new feature this year – free on-mountain photos for pass holders. The man in green scanned our passes, we struck a pose, he snapped the photo, and then (supposedly) the photo was instantly sent to each of our EpicMix accounts. Sure enough, two hours later when I arrived at the office and logged into EpicMix, this beautiful photo was already there: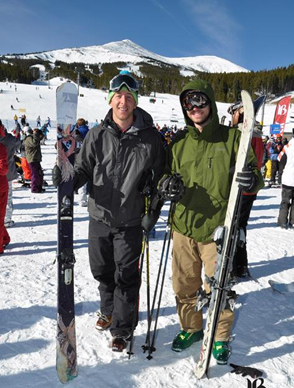 The highlight of opening day was my last run, at which point I had already lost Geoff somewhere in the crowd at the base. I arrived at the top of the Colorado chair and saw the ski patrol fiddling with the ropes on an untouched run of perfect corduroy. As I slid off the chairlift, I looked back to see the ropes fall. I made eye contact with a couple of other skiers near me and we all had the same idea: first tracks on a new run. We all made a break for the untouched run, Spruce, and ripped turns under the lift while everyone above us gave shouts of encouragement.
All in all, it was an awesome opening day at Breckenridge with a big happy crowd, several lifts spinning, and a couple of runs to ski. Hopefully this upcoming storm will dump enough snow to open up even more next week!