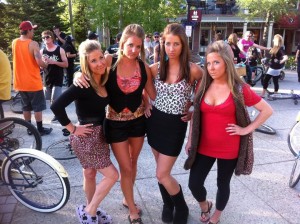 Looking for a fun night out with your friends while burning some calories, too? Okay, maybe not as many calories as you're taking in, but still active and fun? Breckenridge Cruisers is the perfect activity! Every Thursday night, people of all ages get together to celebrate bike riding, summer and (let's be honest) drinking in Breckenridge. More or less, Breckenridge Cruisers is a pup crawl on bikes. But if drinking isn't your thing, no worries! Just ride your bike, meet new people and have fun.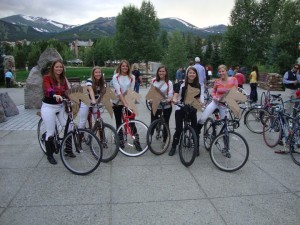 Each week there's a different theme, and the ride is really a showcase of all different kinds of costumes, bikes and people. (In fact, you'll find tourists and town folk alike taking pictures of the ridiculousness.) Everyone meets up at 6 p.m. at the Riverwalk Center in downtown Breckenridge. At about 7 p.m., the crowd -- usually consisting of 20-40 people dressed as anything from superheroes to "Jersey Shore" characters, ride out. The night begins with a 15-minute-or-so cruise back and forth between Park Ave. and Airport Rd. on Main Street. From there, the bar hopping begins. A schedule of bars participating and specials being offered is usually predetermined. The "usual suspects' include Motherloaded Tavern, Ullr's, Ollie's, Gold Pan, Angel's Hollow and Empire. The night always ends with a free keg of Coors beer at Liquid Lounge, and the local Coors rep provides tons of giveaways and prizes.
It's truly an incredible event set up and put on by people just like you and me. So, if you're hanging around Breckenridge on a Thursday night, make sure to stop by the Riverwalk Center with your bike!