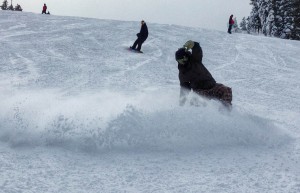 Sure, it was a dry few weeks and Breck had to delay opening, but holy Ullr, we could not have asked for better conditions on opening day. Ullr, the Norse god of snow, finally heard our call, and 10 inches of fluffy snow fell overnight, giving everyone that came out great powder runs. To get the crowd pumped up, DJ DC was spinning tunes from Red Bull's specially made MXT DJ truck. And the newly remodeled six-passenger Colorado SuperChair definitely has people excited. Now with 30 percent more capacity, the most utilized lift on the mountain can transport more skiers and riders up the mountain so everyone has more time to enjoy the slopes.
The lifts started turning at nine a.m., with 86 acres of terrain open on Peak 8 and more than 200 people eagerly waiting in line. Skiers and riders who got to the mountain early enough enjoyed free donuts freshly made at the Ski Hill Grill. If you didn't get a donut today, don't worry — they'll be a regular part of Ski Hill Grill's menu this season. EpicMix photographers were there, too, giving out free prints to anyone who got their pictures taken. From the chairlift lines to the runs, everyone was smiling ear to ear — even Breck's staff! We all love snow, and we all love skiing and riding!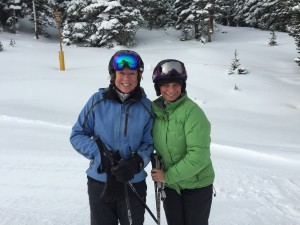 Right now, skiers and riders at Breck can cruise down Upper and Middle 4 O'clock run, Springmeier, Powerline, and Trygve's. Anyone who wants to get a little more air can head to the beginner terrain park on Trygve's or push the limits in the Park Lane and Freeway terrain parks.
As the snow continues to gently fall, enveloping the slopes in white, the snowmakers and Ski Patrol at Breck are working hard to get more terrain open. While we here at SMR are looking forward to the rest of the mountain opening up, we're just happy that our home mountain is now open for skiers and riders, and that we can all spend our off time doing what we love to do — sliding downhill, feeling the rush of the cool wind against our faces, and taking in the gorgeous Breckenridge landscape. Whether you live here or are a visitor, who could ask for anything better?