Economic Impact of Short-term Rentals in Summit County
Our analysis of the overall economic impact of short-term rentals in Summit County indicates that:
In 2017, the Town of Breckenridge collected a total of $563 million in net taxable sates.
Of that total, $147 million — more than one fourth — came directly from short-term lodging.
Breckenridge vacation visitors contributed $442 million to the local economy between lodging and other purchases in 2017.
In nearby Frisco, Colo., our analysis suggests that short-term rentals had a total impact of $228 million on the local economy in 2017.
METHODOLOGY USED TO REACH THESE CONCLUSIONS
Town of Breckenridge 2017 Total Economic Impact from Short Term Rentals:
$147,617,318 * 3 = $442,851,954
3 is the multiplier from BTO STR Lodging survey

In the survey administered through STR companies to guests post departure, 1/3 of the total spend was lodging.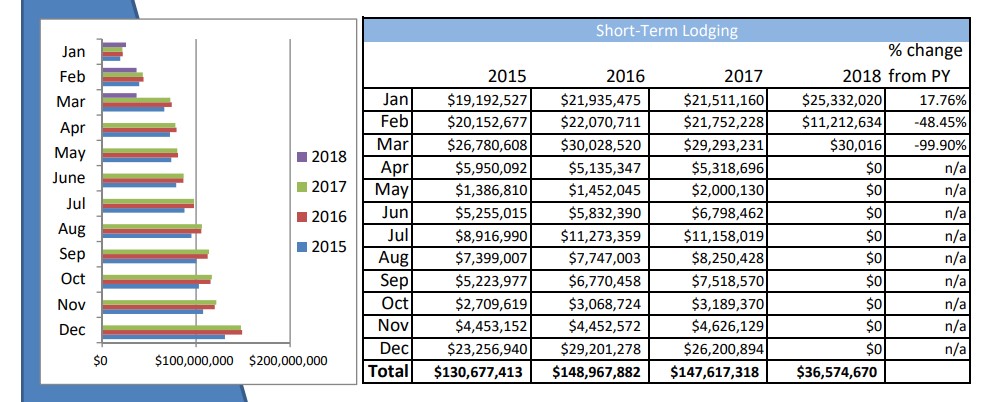 Town of Frisco 2017 Total Economic Impact from Vacation Rentals:
The formula is ((380,326*2)/.04)*3 = $228M or $¼B

$380,326 = sales tax revenue collected (4% is combination of county and city @ 2% each. Frisco does not include the additional lodging tax at this stage in their report, so the number is absent the 2.35% lodging tax) (Reference - www.friscogov.com/wp-content/uploads/2017/09/PacketTC022718.pdf p.56)
2  - the multiplier from TOF only believing they have 50% compliance
.04 - Dividing by the tax rate of 4% explained above to get total $ spent on lodging
3 - Multiplying by the inverse of the lodging spend ratio to get the Total Economic Impact
Total Economic Impact comes to $228M or ¼ of a billion dollars from Vacation Rentals in Frisco alone contributing to the local economy.
If you have any questions about this study or the methodology used, please contact Gavin Dalgliesh, SMR's marketing revenue manager, at gavin.d@summitrentals.com or 970-279-4924.